If you're looking for the best burgers in Cincinnati, Sammy's Craft Burgers is the place to be! They make some of the best burgers in town, and their menu features a variety of different options so that everyone can find something they'll love. On top of the amazing burgers, Sammy's also features fantastic locally brewed beers and a food truck.
Whether you're in the mood for a classic burger, veggie burgers or something a little more adventurous, Sammy's has you covered. So if you're looking for an amazing burger restaurant in Cincinnati Oh, be sure to check out Sammy's Craft Burgers!
Sammy's Story
The story of Sammy's starts with its namesake, Sammy Flores. Sammy has always dreamed big, and his story is one of overcoming obstacles to achieve success. As a child, Sammy aspired to be a professional soccer player in his native country of Mexico. At the young age of 18, he joined his first professional team, Oro. However, an injury cut his career short and Sammy was forced to retire from soccer.
Despite this setback, Sammy went on to move to Cincinnati OH and create a successful restaurant. His determination and drive to succeed are evident in everything he does, and these qualities have helped him create one of the best burger joints in the area.
Best Burgers in Cincinnati OH
When it comes to burger options at Sammy's, you'll be spoiled for choice. They have a range of different burgers on their menu, including classic options as well as more exciting choices. Whether you're looking for something with a fried egg, a double cheeseburger, maybe a black bean burger, some caramelized onion, or just crispy bacon, you'll be able to find what you're hungry for!
If you're in the mood for something simple, the classic burger is a perfect option. But if you're looking to explore some other delicious burgers, then let's dig deeper into the awesome burgers!
Juicy Lucy burger
The Juicy Lucy burger is my favorite burger at Sammy's! This burger will take your taste buds on a wild ride! It's packed with Smoked BBQ with Marrow, sharp cheddar, bacon, onios, jalapeno straws, smoked KY bourbon sauce and served with chicken BBQ mac & cheese. The chicken BBQ mac & cheese is served within a bone…yes you heard right, a bone! The presentation is absolutely amazing.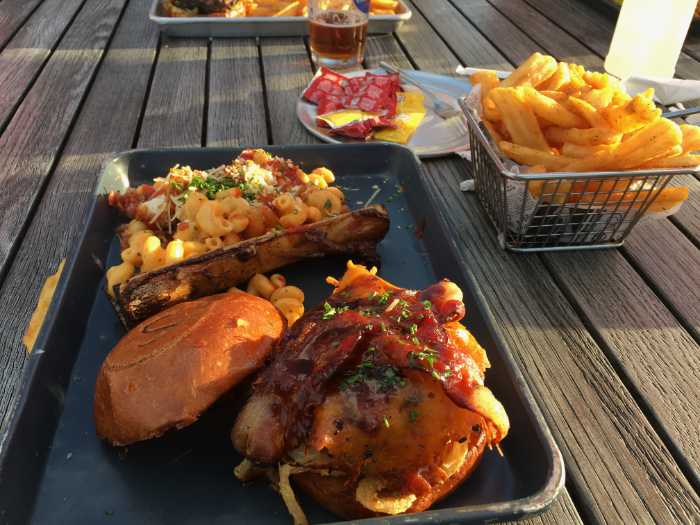 It's a mouthful in more ways than one, and it's absolutely delicious. This burger is perfect for anyone who loves barbecue flavors, and it's an amazing explosion of flavors. The Juicy Lucy is one example of why Sammy's has the best burgers in Cincinnati.
Fretboard Burger
Another favorite burger option at Sammy's is the Fretboard beer cheese burger. This burger is made with Fretboard beer cheese, pacetta, sunny side up egg and crumbled bacon served with Fretboard beer cheese fries. The Fretboard beer cheese gives the burger a delicious cheesy flavor, and the Pacetta adds a nice salty taste. The sunny side up egg is a great addition, and it really ties the burger together. The Fretboard beer cheese french fries are some of the best fries I've ever had. They're thick and crispy, and they have an amazing cheesy flavor.
Maple Bacon Burger
Another one in the list of the best burgers in Cincinnati OH, is the Maple Bacon Burger! Who doesn't love bacon?? This burger is layered with spicy maple glaze, bacon, and cheddar cheese. The combination of sweet and savory flavors in this burger is amazing, and the bacon really adds a great touch.
This burger is one that you won't want to miss! If you're a fan of bacon, then this is the burger for you!
What Locals are Saying About These Delicious Burgers
"My husband surprised me with a new place to eat and wow the burger was so juicy and tasty neat little establishment will visit again." – Renee
"Food was delicious, and the atmosphere was great! Tv's everywhere so you could watch the game no matter where you sat (major points with the husband), and you never felt like you were sitting on top of your neighbors!" – Colleen
"This has been our spot for "burgers and beers" for several years. Maple Bourbon Burger is the bees knees. Gets crowded but hold out, it's well worth it!" – Amanda
"Went to Sammy's for the first time during burger week and it was quite a treat. My wife and I arrived about 530 on Saturday night figuring we'd beat the crowd. Not so. Jesse at the door took our phone number and gave us a 45 min wait time. About 40 minutes later, Jesse called and our table was ready. The place was hopping! Shortly after we sat, our server took our order. Two smoke burgers (the burger week special – BBQ ranch sauce, onion straws, bacon and cheddar) fries, rings and a couple of Fretboard beers.
20 minutes later our food arrived. The burgers were both perfectly cooked and loved the toasted bun. Both the fries and wings were luke warm, really our only beef (pun intended) with the meal. I asked our server what a normal Saturday was like… normally a 2 HOUR WAIT! Well, we'll most certainly be back, but will definitely skip the 2 hour wait." – Jeff
If you're looking for some of the best burgers in Cincinnati, then look no further than Sammy's Craft Burgers! From the Juicy Lucy to the Maple Bacon Burger, there's something for everyone at Sammy's. If you're not excided about beef burgers, don't worry! Sammy's also provides black bean burgers for our veggie burgers friends!
So what are you waiting for? Head on over to Sammy's and check out this amazing burger joint for yourself! They truly help solidify the title of the best burgers in Cincinnati. Trust me, You won't be disappointed!
Looking for more local businesses to support? Check out these other awesome local brands!